April 30, 2020
These days, a collaboration agreement out of the ordinary is signed virtually by partners from both sides of the Earth. The collaboration is centred around the exchange of knowledge on climate adaptation, sustainability, education – and the construction of a Climatorium in New Zealand based on the Central Denmark Region model.
The agreement takes its starting point in the Climatorium in Lemvig Municipality, which is a part of the large EU climate project, Coast to Coast Climate Challenge (C2C CC) headed by Central Denmark Region. In C2C CC, the region, the municipalities, private partners as well as educational and knowledge institutions collaborate on climate adaptation.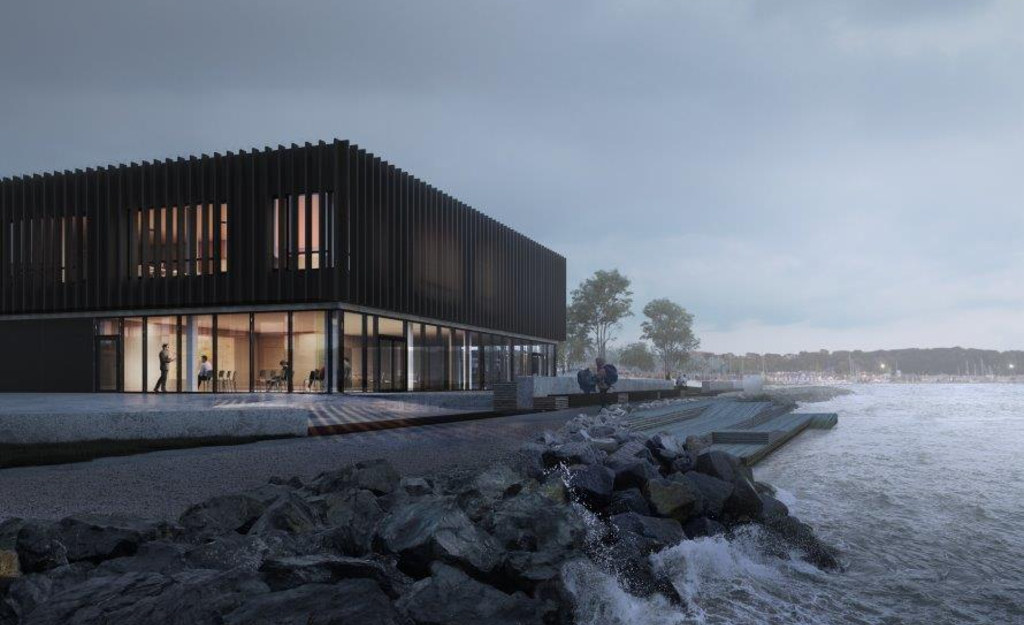 Visualization of Climatorium which is under construction in Lemvig in Western Jutland. Now a copy of the climate beacon will be build in New Zealand.
Klimatorium, der er ved at blive bygget i Lemvig. Nu skal der bygges et tilsvarende på New Zealand.
New Zealand is facing many of the same climate challenges as Denmark such as increasing seawater levels, changes in rainfall and temperatures. In 2017, a delegation from New Zealand visited Denmark and heard about the Climatorium, which is currently being constructed. During the visit, a plan was formed to make a similar Climatorium in New Zealand to enable a broader collaboration on climate issues and sustainability.
- The agreement with New Zealand is an example of how the world looks to Central Denmark Region when it comes to climate adaptation. At the same time, we are very interested in exchanging knowledge with New Zealand because we can learn a lot from each other concerning the climate, circular economy and sustainability. This collaboration may potentially increase our knowledge in our effort to make the healthcare system sustainable as we know they in New Zealand have worked strategically with sustainability and waste for many years. In the climate area, a collaboration can spread the climate solutions from Central Denmark Region to the benefit of the educational area, companies and businesses in Central Denmark Region, says Chairman of Central Denmark Region Anders Kühnau.
Knowledge exchange across the Earth
Central Denmark Region and the other Danish partners hope the agreement will promote new ways of collaborating internationally. In addition to building a Climatorium in Nelson city in New Zealand, two other areas have been identified where collaboration may contribute positively to the goals of the partners – including the UN Sustainable Development Goals.
New Zealand has extensive experience in waste management at hospitals due to a national focus on the separation of waste and new materials at hospitals; this has been ongoing for much longer than in Denmark. On the other hand, Central Denmark Region and the Climatorium have knowledge on sustainability and climate adaptation in construction and energy renovation as well as on climate adaptation and how to collaborate on climate solutions.
Goals for the collaboration
The partners share the following goals:
To create a collaboration that identifies initiatives and activities which are in accordance with the ambitions and goals of the partners. This includes collaboration on specific problems such a promoting less consumption, increasing recycling and reuse in the healthcare system
To get a better understanding of the climate challenges, possibilities and initiatives in Te Tauihu (at the top of the South island of New Zealand), Lemvig Municipality and Central Denmark Region
To obtain a better understanding of the quadruple helix model, in which different levels of research and educational institutions collaborate with private and public partners to find innovative solutions to common challenges. The climate challenge is a good example of such a challenge, which should be solved in partnerships locally, regionally, nationally and globally
To explore identified climate challenges or related projects, which mutually benefit and support the goals and ambitions of the partners.
Sustainable hospitals
Furthermore, the ambition of Central Denmark Region is to find out if it is possible to collaborate concerning knowledge of sustainable hospitals. New Zealand has extensive experiences in the sorting of waste at hospitals.
Consequently, they have focused on sorting of waste and new materials at hospitals for much longer than Denmark. In 2012, New Zealand had its first sustainability consultants at the hospitals; this is currently being implemented at all hospitals in Central Denmark Region.