26.08.2019
Neil Peterson, Managing Director of Inside Track, is an experienced man regarding the management and hosting of European Capital of Culture (ECoC) and he is impressed with the cultural collaboration in Central Denmark Region.
European Region of Culture - the heritage after Aarhus 2017 - is a collaboration where both Central Denmark Region and not only Aarhus, but also the remaining 18 municipalities in Central Denmark Region collaborated on hosting the ECoC-event.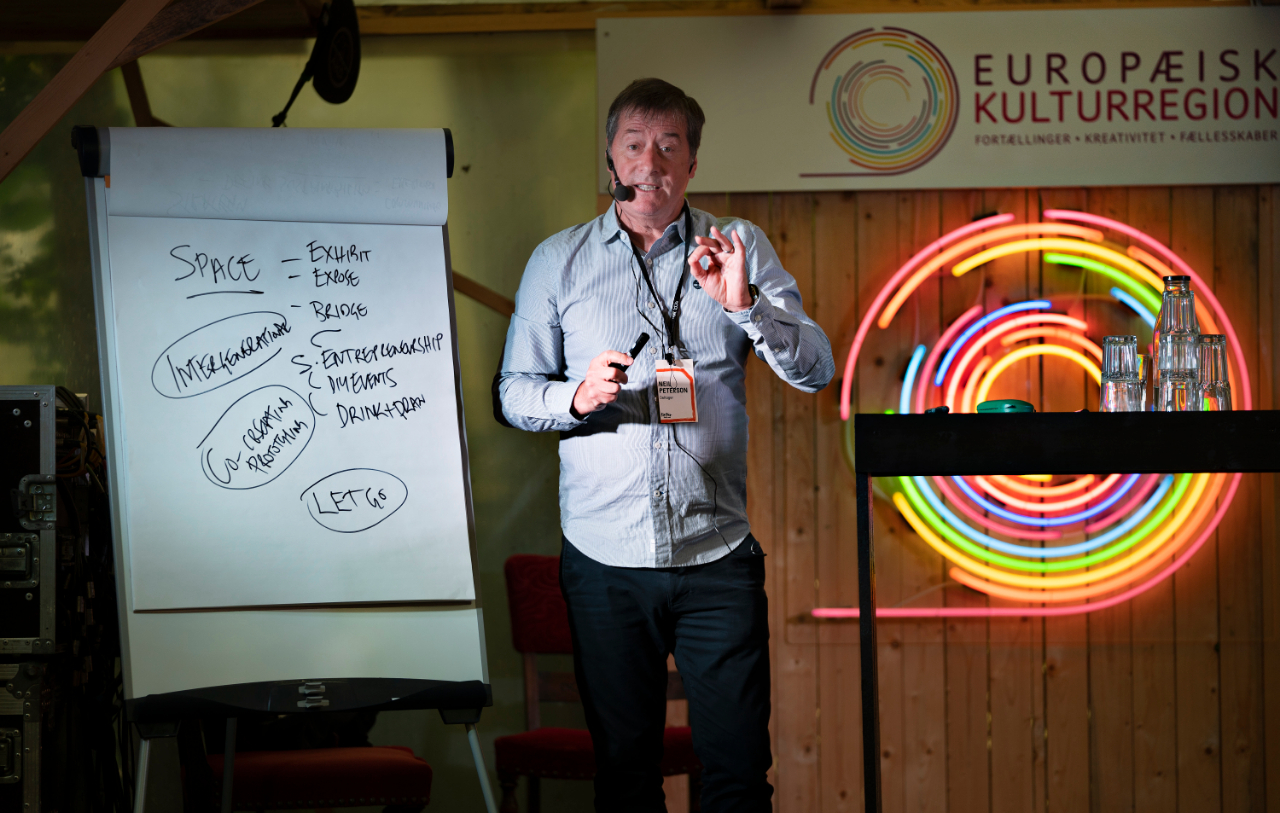 Neil Peterson at the annual cultural meeting, Kulturmødet 2019, in Denmark on the stage of European Region of Culture. Foto: Niels Åge Skovbo.
- I am really impressed with this whole idea of the region even taking things a level further than with Aarhus in the lead. This idea of having a European culture region is a very good way of doing thing because you need some kind of organizational structure to carry on after you have had such a special year, says Neil Peterson who was part of the leadership during Liverpool's capital of culture in 2008 and now helping cities/areas getting positive change through culture.
Cultural collaboration knowledge export
During Kulturmødet (the annual cultural meeting in Denmark) 2019 in Mors Neil Peterson held a workshop in "Lysskoven" the wood stage area of the national meeting which is the stage for European Region of Culture.
In the interview afterwards he mentions the collaboration between seven museums in Central Denmark Region. A collaboration which during Aarhus 2017 lead to the exhibition "The Seven Deadly Sins", and currently the same seven museums have seven exhibitions about national identity with the headline From Where We Stand (Herfra hvor vi står).
- Lots of smaller regions have museums that need better storytelling, better collaboration, better staff development and so on. So maybe the other thing that you can do as well as having gained from all you learned during the European Capital of Culture - you can actually be a model for others to learn from, and I think that it's always a good thing. Because it might also get you some funding to carry on doing what you are doing.