31/10/2019
On Wednesday October 30 October 2019, Shanghai Vice Mayor Chen Qun visited Aarhus to sign the agreement to continue the collaboration with Central Denmark Region for the next three years. During the visit, Vice Mayor Chen Qun, responsible for education in Shanghai, and the Chinese also met with Aarhus University and Steno Diabetes Center.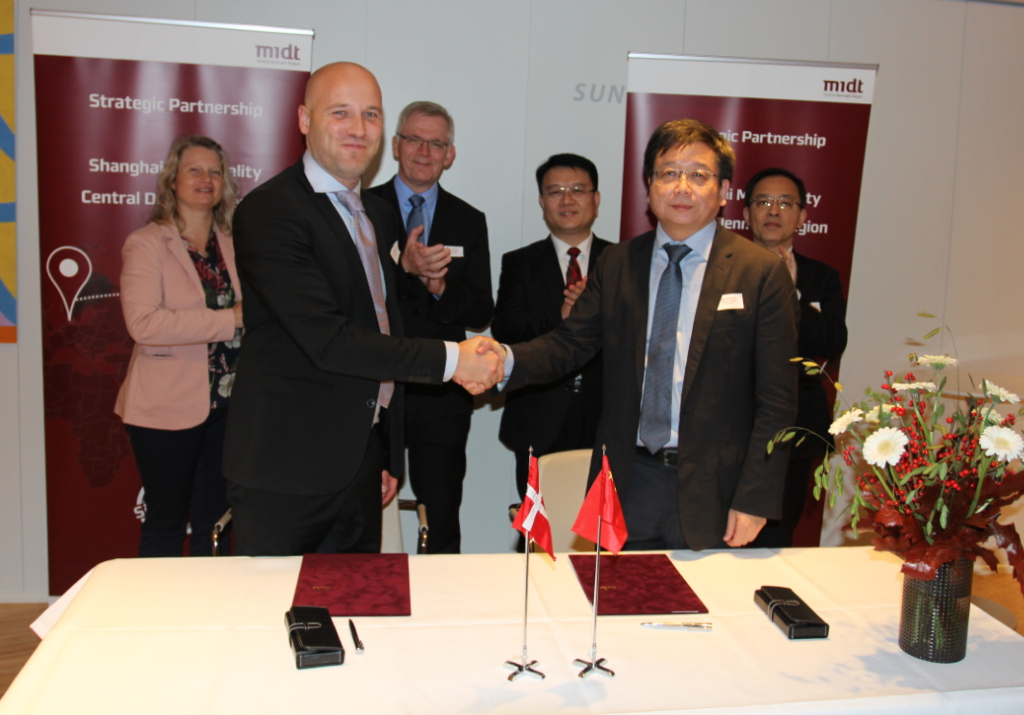 Chairman of the Regional Council Anders Kühnau and Shanghai Vice Mayor Chen Qun. Photo: Jonas Flintegård
Since 2003, Central Denmark Region has had a strategic collaboration with Shanghai – one of the largest cities in China with approx. 24 million inhabitants. The new agreement focuses on collaboration within health innovation, culture, education and research. According to Chairman of the Regional Council, Anders Kühnau, the prolonging of the agreement is a sign of the good relations between Central Denmark Region and Shanghai.
- As a region, we strive to maintain an open door for our partners working with Shanghai. Currently, seven educational institutions in Central Denmark Region work with partners in Shanghai. At the same time, the best hospitals in Shanghai are eager to learn from our hospitals. Collaboration with one of the world's most innovative cities fits our ambitions in Central Denmark Region and our prioritisation of international partnerships as an important part of the future knowledge development.
On Wednesday evening, a welcome dinner was held at ARoS art museum in Aarhus with representatives from Aarhus University Hospital, Aarhus University, Via University College, Business Academy Dania, Business Academy Aarhus, Tradium in Randers, The Royal Ballet in Holstebro and Viborg HK Handball Club.
The Shanghai Vice Mayor Chen Qun visited the Elite Sport Center at Aarhus University, where the Chinese delegation learned about the Danish model of combining elite sport and education. One of the presentations were given by the 7-time Danish world champion in orienteering, Maja Alm, who has combined a career in elite sports with studying at Aarhus University.
The Director-General of Shanghai Sports Department, Xu Bin, was particularly interested in the association between sports and health, so the Chinese delegation also visited Aarhus University Hospital, where there were presentations by Steno Diabetes Center and Novo Nordisk, because China is faced with an increase in the number of people with diabetes and it was discussed how to expand the Danish-Chinese cooperation in the future.
Link to cooperation agreement between Shanghai and Central Denmark Region.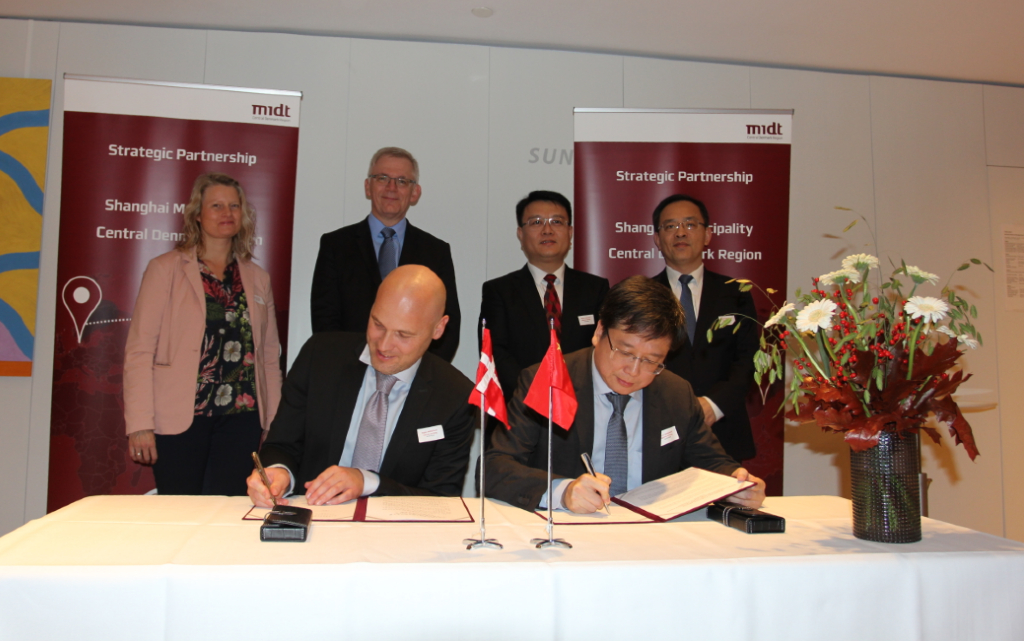 The new cooperation agreement, Memorandum of Understanding is signed. Photo: Jonas Flintegård
Further information
Jonas Bay Flintegård, International Consultant, Central Denmark Region, tel. 6161 5360, email: jonfli@rm.dk